Poznám každučký meter tejto cesty. Počasie sa mračí a ja rozmýšľam, akú kvalitu fotiek vyprodukujem v tejto daždivej šedi. Ale: nevzdávam to a konečne prichádzam na hričovské letisko na stretnutie absolventov.
Všetci sú už zhromaždení v malom hangári, kde sledujú krátku prezentáciu o histórii univerzity. Nasleduje prehliadka nových častí. Na moje prekvapenie, teraz mnoho vecí nespoznávam. Všetko je buď nové alebo zrekonštruované. Nad malým hangárom a takisto nad hlavnou budovou vzniklo totiž nové poschodie.
Známa brífingová stoštvorka mi pripomína časy, keď sme sa o pol ôsmej ráno schádzali na predletový brífing. Nešlo to neodfotiť si ju.
Zalietali sme si na simulátore typu FNPT II MCC určenom na výcvik prístrojového lietania a kurzy MCC.
Naskytla sa mi možnosť odfotiť si flotilu LVVC zblízka.
L200 Morava
PA34-220T Seneca
PA34-220T Seneca
PA28 RT Arrow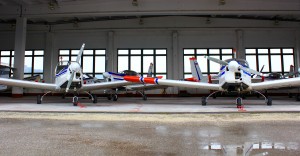 A letúne typu Zlín Z42, Z142 a Z43
Zhromaždili sme sa vonku, aby sme sledovali prílet Aera Ae145 z nitrianskeho aeroklubu.
Aká by to bolo rozlúčka s Moravou bez skupinového letu?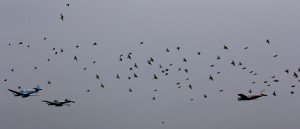 Stretnutie pokračovalo voľnou zábavou. Bolo mi ozajstným potešením zúčastniť sa 🙂