AEROSCOPIA – múzeum v srdci európskeho letectva
Boli ste už v malebnom francúzskom meste Toulouse? Na jeseň v roku 2018 som mal možnosť zúčastniť sa školení, a to priamo v kolíske európskeho letectva – v Airbus-e. Keďže školenia a výcvik trvali viac ako 10 dní, počas môjho pobytu v Toulouse som mal možnosť prezrieť si nielen nádherné a historické mesto, ale mal som aj čas navštíviť letecké múzeum Aeroscopia. Múzeum sa nachádza v severnej časti letiska, kde má okrem iného svoje výrobné haly aj samotný Airbus.
V meste je cítiť, že ľudia tu doslova žijú a dýchajú pre letectvo. Na každom kroku počujete niekoho, kto sa rozpráva so svojím kolegom o svete lietania. Pravidelne stretnete pilotov, ktorí sa pripravujú na simulátor alebo pozemný personál leteckých spoločností, ktorý sa ide školiť v rôznych oblastiach. Mesto je krásne a dýcha históriou. Je pomerne čisté a ľudia sú v ňom veľmi prívetiví. Absolútna samozrejmosť je výborná gastronómia a množstvo kaviarničiek a barov, kde si môžete večer posedieť v príjemnej atmosfére.
Keďže som celý pracovný týždeň strávil zavretý v Airbus Training Centre a potreboval som trošku vypnúť, rozhodol som sa počas voľnej soboty navštíviť spomínané múzeum. Nasadol som na električku č. T1, ktorá premáva z centra mesta priamo na letisko, kde sa múzeum nachádza. Návštevníkom odporúčam vystúpiť na zastávke "Beauzelle Aéroscopia", odkiaľ jednoducho prejdete pešo cez most ponad diaľnicu priamo do múzea. Už z mostu je výborne vidieť jeden z dvoch Concorde-ov, ktorými toto múzeum disponuje, ale aj Airbus A400M a SE 210 Caravelle 12, takže naozaj nemáte kde zablúdiť. Leteckému nadšencovi stačí ísť naozaj len "za nosom" … 🙂 .
Vstupné do múzea je veľmi prijateľné, dospelé osoby zaplatia 14€, študenti  a deti 11€ a deti do 6 rokov majú vstup zdarma. Okrem prehliadky múzea máte možnosť zakúpiť si aj jednu z ponúkaných prehliadok Airbus-u, ktoré sú venované konkrétnym typom lietadiel a ich výrobným linkám a halám. Cena je individuálna a závisí od zvolenej prehliadky. Po vstupe do múzea Vás doslova obklopí hangár, plný modernej aj historickej techniky. Nájdete tu lietadlá, vrtuľníky, modely, prúdové aj vrtuľové stroje, civilné aj vojenské… V múzeu sa dá stráviť niekoľko hodín, pričom si prídete na svoje naozaj všetci.
Múzeum aktuálne ponúka tieto exponáty:
Legendy a repliky:

                                                                                           
• replika Blériot X
Civilné komerčné lietadlá:
• Sud-aviation SE 210 Caravelle 12 (tarmac)
• Sud-aviation-British Aircraft Corporation Concorde 209 (tarmac)
• Sud-aviation-British Aircraft Corporation Concorde 201
• Airbus Industrie A300B
• Aero Spacelines Super Guppy SGT 201
Vojenské lietadlá:
• Société des avions Marcel Dassault Falcon 10
• Aerospatiale SN-601 Corvette
• Mikoyan-Gurevich MiG-15Bis
• Lockheed F104 G Starfighter
• Générale d'Aviation Marcel Dassault Mirage IIIC
• Vought F-8E (FN) Crusader
• Sepecat Jaguar A
• Cessna 337 Super Skymaster "Push Pull"
• Morane-Saulnier MS760 Paris IR
• Potez-Air Fouga CM 170 Magister
• Airbus Military A400M
Športové lietadlá:
• SNCAN Nord 1101 Noralpha
• Wassmer WA28 Espadon
• VJ 01 Gringo
• Best Off Sky Ranger
Výskumné lietadlá:
• Fairchild Swearingen SA226-AT Merlin IV
Vrtuľníky:
• Aerospatiale Westland SA 340 Gazelle
• Sncase Alouette II Marine
Drony:
• Nord-Aviation CT 20
Plánované exponáty v blízkej budúcnosti:
• Saab J35 OE Draken
• Republic F-84G Thunderjet
• Airbus A380-800
Zrejme najväčším lákadlom múzea sú aktuálne Concorde, Airbus A300B, Airbus A400M a Airbus Skylink Super Guppy.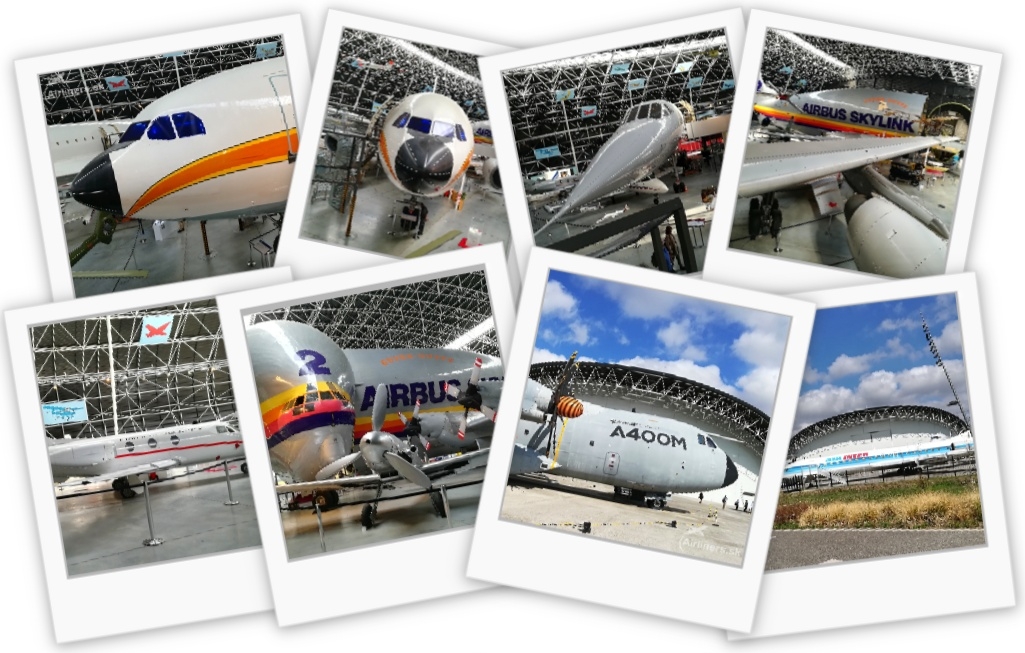 Pre mňa azda najväčším, najkrajším a najemotívnejším zážitkom bola prehliadka jedného z dvoch vystavených Concorde-ov. Interiér je otvorený verejnosti, všetky dôležité a cenné súčiastky tohto legendárneho kúsku histórie sú chránené plexisklom, no aj napriek tomu máte možnosť dotknúť sa histórie, predstaviť si ako sedíte pohodlne usadený v sedadle, popíjate šampanské a za menej ako 4 hodiny ste schopný preletieť z Európy do New Yorku. To všetko bolo možné vďaka úžasnému vývoju, ľudskej tvorivosti a samozrejme štyrom motorom Rolls-Royce/Snecma Olympus 593…
*** FUN FACT ***
Za zmienku taktiež stojí aj porovnanie veľkosti okien Concorde-u, ktoré naozaj nie sú väčšie ako vaša ruka… V porovnaní s dnešnými, doslova obrími, oknami napr. na Airbus A350 alebo Boeing B787 pôsobí okno Concorde-u skutočne len ako menší "priezor".
Súčasťou múzea je aj oficiálny Airbus-shop, kde sa predáva oficiálny merchandise v podobe modelov, oblečenia, hrnčekov, príveskov, pier, hodiniek a pod..
Všetky fotografie si samozrejme môžete pozrieť v našej galérií, a tak, v tomto nepriaznivom čase bez cestovania, virtuálne zažiť prehliadku múzea. Prajeme Vám príjemný zážitok! 😉