Sľúbili sme si…Aj keď je toho Valentína, nie lásku, ale kedysi dávno CPDLC 🙂 A kým vám bude tráviť po nedeľnom obede a potomstvo vás kmásať za vlasy, že v obchoďáku majú ďalší výpredaj alebo živého osrdiečkovaného Mikuláša, verím, že si nájdete trochu času na sľúbený nedeľňajší príspevok o CPDLC.
V plnom znení Controller-pilot data link communication je datalinková aplikácia umožňujúca prenos textových správ vzduch-zem. Bola vytvorená v deväťdesiatych rokoch a vyvíjaná dve desaťročia za účelom zvýšenia bezpečnosti a efektivity leteckej prevádzky v Európe, predovšetkým vo vyťažených vzdušných priestoroch, akým je napríklad Maastricht. Táto služba redukuje prenos hlasových správ – rádiotelefonického spojenia medzi lietadlom a zemou (služba riadenia letovej prevádzky, dispečing, technické oddelenie). V podstatnej miere odstraňuje nedostatky rádiotelefonického spojenia a čitateľnosť hlasovej správy – národný prízvuk, podobnosť slov a výrazov, odchýlky od štandardnej frazeológie.
CPDLC má za sebou dlhú cestu vývoja a nemenej dlhú cestu k plnej funkčnosti. Po jeho uvedení v prevádzke len pár rokov dozadu sa ukázala zraniteľnosť systému voči hackerským útokom. Aby teda mohlo byť CPDLC plošne aktivované, musel byť implementovaný do systému bezpečnostný protokol, tzv. bezpečnostný mód (protected mode, alebo PM-CPDLC). Systém sa však stále testuje, niekoľko leteckých spoločností ho využíva a vie tak poskytnúť spätnú väzbu o jeho funkcionalite. Dostupnosť služby ATN (Aeronautical Telecommunication Network), ktorá sprostredkováva CPDLC komunikáciu, nie je stopercentne zaručená. Systém máva výpadky a z vlastných skúseností viem preto povedať, že nie vždy je správa doručená. Riadiaci letovej prevádzky tak musí urobiť dvojitú prácu – dať nám povolenie cez VHF rádiotelefonické spojenie a uistiť sa, či sme ne/prijali CPDLC povolenie.
Ako teda služba CPDLC v reále funguje?
Pri prelete oblasťou poskytujúcou CPDLC je potrebný login cez ACARS. Login sa vykonáva pri vstupe do prvej oblasti, povedzme z Londýna do Berlína to je Maastricht (EDYY). Vzápätí je prihlásenie buď potvrdené alebo odmietnuté. Hlasovou správou pri počiatočnom zahlásení sa na frekvencii uvedie posádka magické "CPDLC" na konci svojej správy. Pokiaľ služba funguje na 100%, je to zároveň aj posledná hlasová komunikácia posádky s riadiacim. Všetky ostatné povolenia – "direct to waypoint" (skratky), zmeny letovej hladiny a zmena frekvencie – sa vykonávajú cez ACARS. V palubnom počítači B737-800 to vyzerá nasledovne: Posádka aurálnym upozornením vie o prijatej správe a vie si vybrať z možností WILCO (will comly), UNABLE (neschopný) alebo STANDBY (počkajte). Takisto má možnosť vytlačiť si danú správu. Najprv akceptuje (existuje časový limit) prijatú správu a potom ju vykoná.
A takto vyzerá "esemeskovanie" s riadiacim: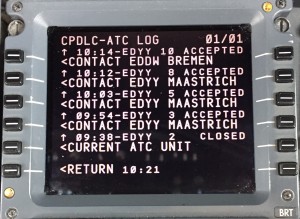 Naďalej však pokračujú diskusie výrobcov lietadiel a avionických firiem, nakoľko nie všetky plánujú uspôsobiť ACARS skrinky do všetkých typov lietadiel a zvýšiť využiteľnosť jednotlivých typov lietadiel v európskom vzdušnom priestore. Povinnosť aplikácie tejto služby bola prezatiaľ odložená na február 2018. Podľa štatistiky ju využíva 5% prevádzky prelietavajúcej oblasťou Maastricht, patri medzi ne lietadlá spoločností British Airways, Lufthansa, Air Berlin, Germanwings, SAS, EasyJet, Finnair a Norwegian.
Inovácie vraj hýbu svetom. Uvidíme, ako veľmi a kedy definitívne zahýbe CPDLC tým leteckým.