Nie, tento článok nie je o žiadnej prírodnej anomálii, ale už o 16tej rovnomennej akcii.
Na letisku v Sládkovičove v pondelok 1.5.2017 bolo plno. Doslova. Autá lemujúce príjazdové cesty, kopec chodcov na ceste, v areáli letiska ( a občas aj na dráhe ). Leták na internete lákal na samé chuťovky.
Akrobacia v podaní Dušana Šamka na lietadle YAK52 ( HA-NSR ) a majstra sveta v pretekoch Redbull Air Race Petra Besenyeia ( snáď sa jeho meno takto skloňuje ) na stroji Corvus Racer 540, Prelet stíhačiek MO SR, bohatý sprievodný program pre deti a mnoho ďalšieho sľubovalo krásne strávený deň pre celú rodinu.
Migy 29 nakoniec nedorazili kvôli zmene rozkazov, ale to vôbec nevadi.
Postupne sa počas dňa návštevníkom predstavili lietadlá Yak 52 ( HA-NSR ) s pilotom Dušanom Šamkom a jeho povestným akrobatickým umením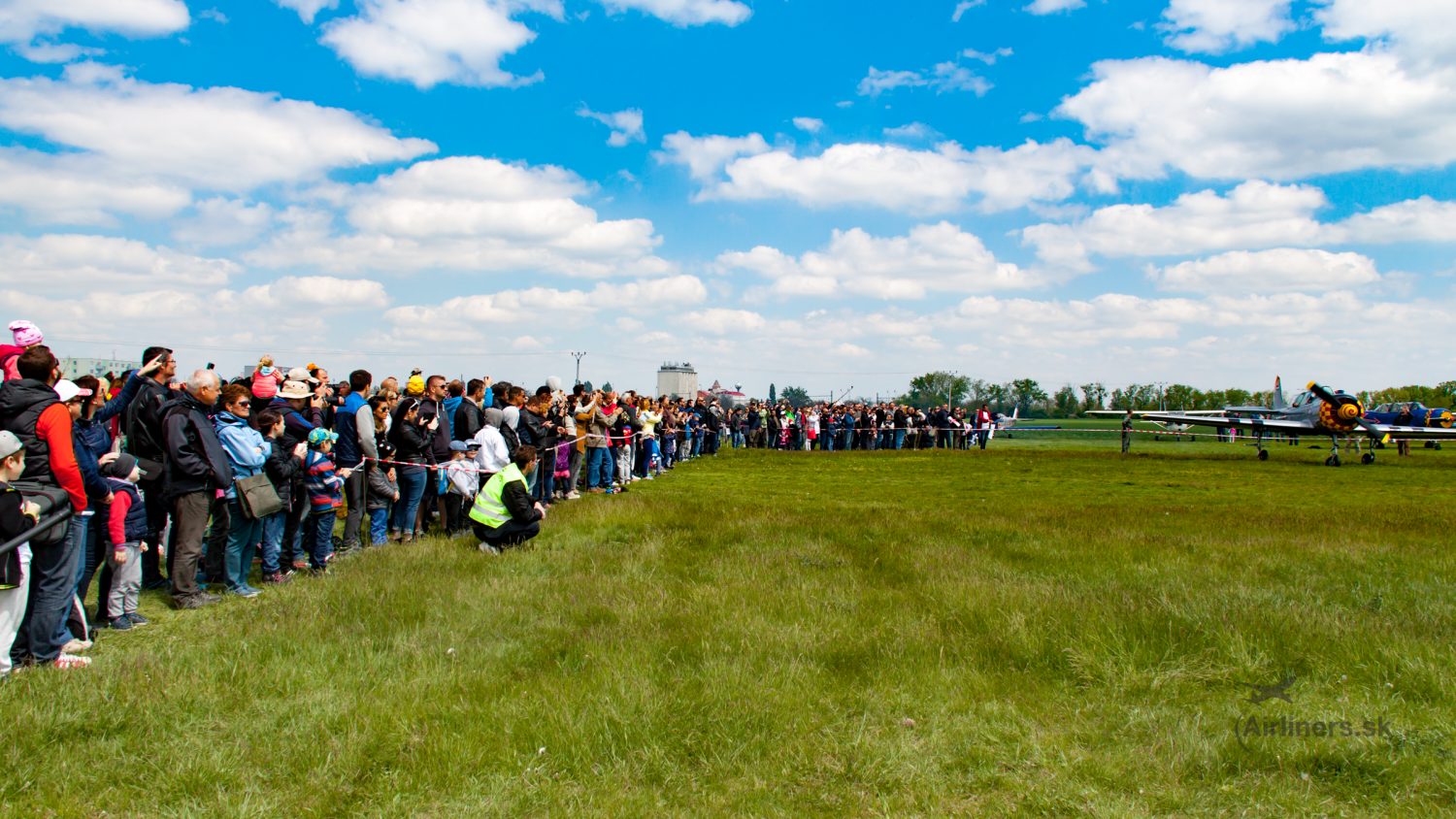 Ukázala sa aj replika lietadla Yak-3
Medzi jednotlivými vysúpeniami mali návštevníci počas celého dňa možnosť sa ísť preletieť na tzv.zoznamovací let.
Tie boli vykonávané liedlami L-60S Brigadýr
Piperom cherokee warrior PA28-151 s reg.HA-WRA
a nakoniec sa k tejto dvojici pridala aj Morava L-200
Niektorí účastníci sa rozhodli využiť leteckú dopravu na presun na letisko Sládkovičovo
Pre deti bol pripravený program v podobe jazdy na koňoch, ukážky Armády SR, jazda na štvorkolkách, malovanie na tvár, streľba z luku a mnoho ďalších zaujímavých atrakcií.
Samozrejmosťou boli aj stánky s občerstvením a hudobný sprievodný program v podobe DJa v hangári PS Aviation.
Zlatý klinec programu – majster sveta v RedBull Air Race Peter Besenyei, sa ukázal v plnej paráde. Pri niektorých kúskoch som aj ja prestával dýchať a to som ho pozoroval len skrz objektív fotoaparátu.
Klobúk dole tomuto pánovi. Po svojej ukážke samozrejme zožal aj riadny potlesk ako sa patrí od prítomného publika ktoré sa vyrútilo k nemu hneď ako vystúpil zo svojho lietadla. A nechýbala samozrejme ani autogramiáda.
Veľmi dobrá akcia a určite sa tešíme aj na tu ďalšiu na ktorú určite prídeme.
Tags:
aeroklub
letisko Sládkovičovo