Dámy a páni, Qatar nás pozýva na prehliadku Boeingu 787 do Viedne prvého apríla. Takto znela správa od predsedu, ktorú nám rozposlal. Prvý apríl, no jasné! Boli sme však ubezpečení, že žart to rozhodne nie je a tak sme v tento bláznivý deň vyrazili smer Schwechat.
Po zaparkovaní áut v Parkhouse 3 sme si nemohli nevšimnúť dolu na ploche odstavený Boeing 707 s nápisom Islamic republic of Iran. Veľmi raritná záležitosť v dnešnej dobe a v našich končinách. Bohužiaľ, kvalitné foto sme neurobili vďaka stĺpom a predmetom, ktoré ho zakrývali. Naša cesta tak pokračovala do Terminálu 3, priamo k pultu spoločnosti Qatar, kde na nás čakala zástupkyňa firmy Priska Glatzer a station managerka Doris Voelkerer.
Nasledovalo privítanie, zoznámenie, zopár viet o spoločnosti Qatar a check-in procedúra. Dostávame preukazy, prechádzame kontrolou, obliekame reflexné vesty a hor sa do "rukáva" vedúcemu rovno do lietadla registrácie A7-BCM. Pri prechádzaní dverami snáď každý člen našej výpravy mimovoľne poklopal rukou trup stroja.
Vstupujeme dnu spolu s pani Priskou. Interiér Dreamlinera okamžite pôsobí moderne a veľmi prívetivo. Najskôr nás usadili v Business Class. Všetci sme sa uvelebili v príjemných kvalitných kreslách. Vyskúšali sme si multimediálne systémy, ktoré sú k dispozícii pre každého pasažiera. Diaľkové ovládače pekne po ruke, skladací stolík pod každým monitorom, ovládanie kresla všemožnými smermi, toto všetko pre príjemný let.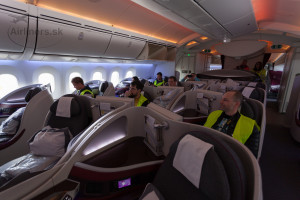 Dostávame ďalšie informácie. Lietadlo lieta z Dohy v Katare do Viedne, má dve triedy – Business Class s 22 miestami a Economy Class s 232 miestami. Každé sedadlo v oboch triedach je vybavené dotykovou obrazovkou, ovládaním systému s výberom audio a video programov, USB portom a iPortom.
Business Class
Economy Class
V ďalšej fáze  našej návštevy nám predviedli "náladové osvetlenie" interiéru a jeho funkcie. Farby sa menili a chvíľami to vyzeralo ako na diskotéke lebo zmena svetla sa dá urobiť okamžite.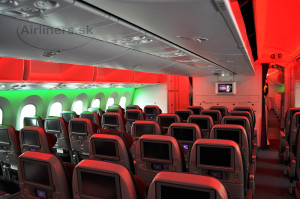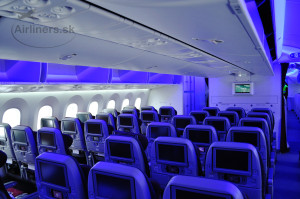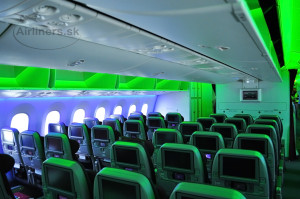 Boeing 787 má preslávené nadpriemerne veľké okná, no prekvapilo nás najmä to, že napriek ich veľkosti nie sú osadené žiadnymi roletkami alebo zaťahovacími clonami. Úplne tam chýbajú. Okná sú totiž vybavené ovládačmi, pomocou ktorých si okno jednoducho "stmavíte". Sklá obsahujú niečo ako tekuté kryštály a tak z číreho skla urobíte za pár sekúnd veľmi tmavé, avšak stále priehľadné. Úroveň "zatemnenia" si každý pasažier zvolí ľubovolne, samozrejme, ak sedí pri okne.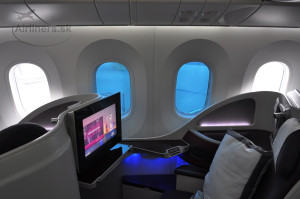 Rôzne zatmavené okná a ovládač pod oknom (svetlá polovica ovládača je zosvetľovanie, čierna stmavovanie)
Po krátkom výklade a poučných informáciach dostávame "rozchod" po lietadle. Väčšina z nás sa ale najprv, veď to bolo jasné od začiatku, nahrnula do kokpitu. Ten je vážne nádherný. Vládne tu útulnosť a digitálna moderna. Bol tu po ruke náhodou aj technik, ktorý ochotne odpovedal na naše otázky.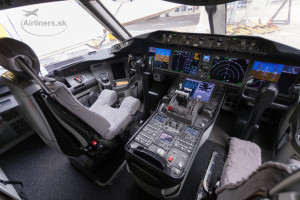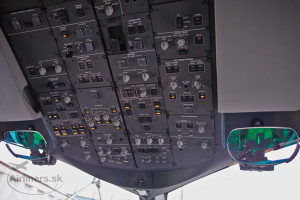 Postupne sme si prezreli celé lietadlo od kokpitu, cez prednú kuchynku, WC, Business Class, opäť WC, ekonomickú triedu, opäť a zase WC, až po zadnú "veľkú" kuchynku. Ďalšia časť exkurzie pokračovala už vonku a tak máme možnosť nafotiť si a poprezerať si Dreamlinera aj z exteriéru. Mohutné motory, podvozky a krídla vysoko nad povrchom viedenskej plochy nás ohromujú svojim dizajnom a pravým high-tech dojmom. Toto bola majestátna krása snúbiaca sa s technologickou a mechanickou účelnosťou v jednom perfektnom a priam dokonalom celku.
Po dôkladnom zdokumentovaní lietadla zvonku sme sa pobrali naspäť do terminálu, kde sme sa poďakovali a rozlúčili s našimi milými sprievodkyňami zo spoločnosti Qatar. Následne sme sa presunuli na vyhliadkovú terasu, aby sme si odfotili Dreamlinera pekne v celku z diaľky a zároveň sme počkali na jeho odlet.
Bola to fajn akcia so správnymi ľuďmi a nezabudnuteľnými postrehmi. Na záver by som dodal, že už čoskoro opäť navštívime ďalší letúň a tak sa môžete tešiť na pokračovanie seriálu "Predstavujeme".
text: Niki Kapsamunov, Filip Pucher
foto: Martin Susi, Niki Kapsamunov
Tags:
A7-BCM
Boeing
Boeing 787-800
Dreamliner
qatar airways
Viedeň