V septembri 2000 som bol na ceste z jazykového pobytu na Malte domov. Letecky som sa mal presunúť najskôr z Malty do Frankfurtu a následne do Viedne. Spoločnosťou Lufthansa. Až do momentu cca 20 minút po odlete z letiska Luqa prebiehalo všetko úplne normálne, keď neberiem do úvahy fakt, že mi bolo zle už niekoľko dní a bol som na antibiotikách.
Približne v čase, kedy sme dosiahli cestovnú hladinu (predpokladám to na základe "level-off" pocitu) sme zrazu začali prudko klesať. Na krídlach sa vysunuli speed-brakes a malo som pocit, že padáme dole ako kameň.
Po chvíli sa ozval kapitán. Oznámil nám, že má indikáciu požiaru na palube a preto musíme pristáť. Letisko Palermo si zvolil ako našu záchranu. Nemám nalietané desaťtisíce míľ a tisícky letov, no taktiež to nebol môj prvý let. Avšak takúto situáciu som zažil prvýkrát v živote. Čo už? Všetko je raz "poprvé" 🙂
Netrvalo dlho a už sme boli na priblížení k Palermu. Myslím, že sme pristávali od mora na dráhu 07. Sprievod na zemi nám robili hasiči.
Po vystúpení nás odviezli do gatu a tam sme strávili +/- tri hodiny. Posádka a hasiči zatiaľ prezreli lietadlo (Airbus A320-131 D-AIRC), kde nenašli žiadne známky požiaru. Medzitým moja prísediaca v gate bola presvedčená, že Lufthansa nám pošle "nové" lietadlo namiesto toho pokazeného. Vzhľadom na jej úctyhodný vek som iba prikývol 🙂
Po troch hodinách leňošenia na "príjemných" stoličkách v gate, na letisku kde v tom čase nebolo nič, sme opäť nastúpili do lietadla (toho istého) a vydali sme sa tentoraz už na bezproblémový let do Frankfurtu.
Samozrejme, prípoj do Viedne nečakal tri hodiny a preto som dostal na druhú časť cesty posledný spoj FRA – VIE. Odlet bol tuším okolo 22:00 (+/-). Chorý a na antibiotikách nebolo nič krajšie ako (opäť) čakať v termináli na odlet. Tentoraz cca 6 hodín 🙂
Do Viedne som sa nakoniec predsa len dostal. Čerešničkou na záver dňa bola moja batožina. Tá cestovala z FRA až na druhý deň.
Bohužiaľ z tohto príbehu sa zachovala iba jedna fotka. Po pristátí v Palerme, v obložení hasičov.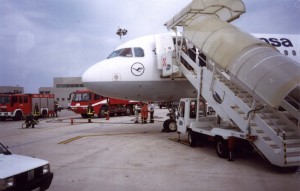 (PMa)