Zákon schválnost hovorí, že ak sa na letisku ukáže niečo netradičné, bude to buď za tmy alebo bude pri zemi heathaze alebo sa počasie vyblázni a znepríjemní nám pozorovanie alebo fotenie. Inak tomu nebolo ani v prípade Boeingu 757-200 spoločnosti Privilege Style, ktorý priviezol hráčov futbalového klubu Atletico Bilbao na zápas proti MŠK Žilina. Zamračené s nízkou oblačnosťou a daždom dávalo tušiť, že fotenie príletu priamo z plochy letiska Pieštany ( PZY – LZPP ) bude nanajvyš zaujímavé a fototechnika dostane zabrať.
Po príchode na letisko sa vydávame na útvar ochrany letiska, kde sa nahlasujeme, obliekame vesty a vchádzame cez postrannú bránu popri hasičskej technike priamo na apron. Rýchla kontrola polohy lietadla na flightradare hovorí, že si musíme rýchlo nájsť to správne miesto na fotenie, ideálne pri twy A ( rolovačka Alfa ).
757dma sa vynorila z mrakov a za klapkami až po pristátie boli krásne viditeľné vortexy.
Vzhľadom na úzke taxovačky bolo vopred dohodnuté, že lietadlo bude od dráhy pre istotu dotiahnuté na rozšírenú plochu pri križovatke taxiways A(lfa) a B(ravo), kde už na pasažierov čakali pristavené autobusy a samozrejme aj zástupcovia médií.
Na moje prekvapenie si klub so sebou priviezol okrem rodinných príslušníkov aj fanúšikov.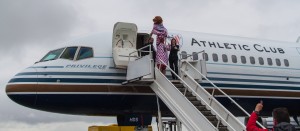 Po vyložení pasažierov nastupuje na rad catering, kde je potrebné vymeniť a doplniť zásoby na palube a samozrejme aj poupratovať 🙂
Okrem toho, že sme si mali možnosť nafotiť pristátie a túto krásku priamo z plochy, venovali sme jej dostatok času s fotoaparátom v ruke i napriek daždu aby sme si ju nafotili dopodrobna.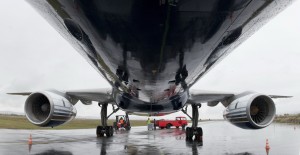 Úplný a najväčší BONUS pre každého spottera bolo pozvanie kapitánky lietadla Marie. Ponuka ktorú by asi nikto neodmietol – posadiť sa na kapitánsku sedačku a ešte Vás pri tom aj sama odfotí 🙂
Na záver Bonus č.2 v podobe fotky z odletu priamo od kapitánky, za čo jej veľmi pekne ďakujeme 🙂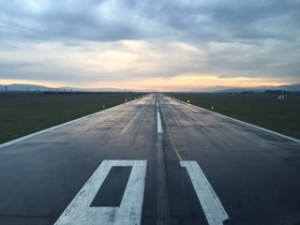 Touto cestou by sme radi poďakovali hlavne letisku Piešťany, ktoré nám toto všetko umožnilo a tešíme sa na ďalšiu spoluprácu. Kiežby aj naše hlavné letisko dokázalo takto spolupracovať. Uvidíme budúci rok 😉
Tags:
Boeing
Boeing 757
Boeing 757-200
letisko Piešťany
Privilege Style